Université Catholique de Louvain (UCL-Bruxelles)
Louvain Drug Research Institute (Department of Pharmaceutical Sciences)
Centre for Clinical Pharmacy

---

Site en francais | In het Nederlands - Last update: 14/10/2011
---
Clinical Pharmacy is a pharmaceutical activity centered on the patient. Its primary objective is to ensure the most appropriate and safe use of medicines. In this activity, the pharmacist uses his/her knowledge and skills relative to pharmacology, pharmacotherapy and communication with other health care professionals and patients in order to promote the effective use of medicines in hospitals and in primary care.

The Centre has been created informally in 2003 to house the Research and Advanced Teaching activities of our University and of its affiliated hospitals in Clinical Pharmacy. It is presently in the process of being formally incorporated in the new structure of the University as part of the "Louvain Drug Research Institute".
---
Research Programs

General objectives

Study of the appropriateness of medicines use in selected hospital wards, to demonstrate the value of optimization strategies within the context of Clinical Pharmacy Services.


Current research programs

There are three main ongoing programmes (PhD):

Continuity of care focusing on medications after hospital discharge
Investigator: Coraline Claeys, Pharm.[ULB]


Appropriate use of antibiotics, with emphasis on therapeutic monitoring and application of PK/PD principles
Investigator: Els Ampe, Pharm. & Hosp. Pharm. [KU-Leuven]


Appropriate use of sedative drugs in Intensive Care Units
Investigator: Barbara Sneyers, Pharm. [UCL], Cert. Pharm. Clin. [UCL]


Additional programmes are ongoing through collaborations with other Universities in Belgium and with the Belgian Health Care Knowldge Center (KCE).


Research methods used

qualitative methods (eg observation, interviews, focus groups, ... see example 1)


quantitative methods (randomized controlled trial, before-after study, interruped time-series analysis, ... see example 2)


optimization of drug use based on pharmacokinetics/pharmacodynamics (application to antibiotics; ...see example 3)

Example 1: Appropriateness of use of medicines in elderly inpatients: qualitative study
(from Spinewine et al.,British Medical Journal, 2005; 331:935-939 ] )
Example 2: Impact of a clinical pharmacist providing pharmaceutical care on a geriatric unit: quantitative study
(from Spinewine et al., unpublished)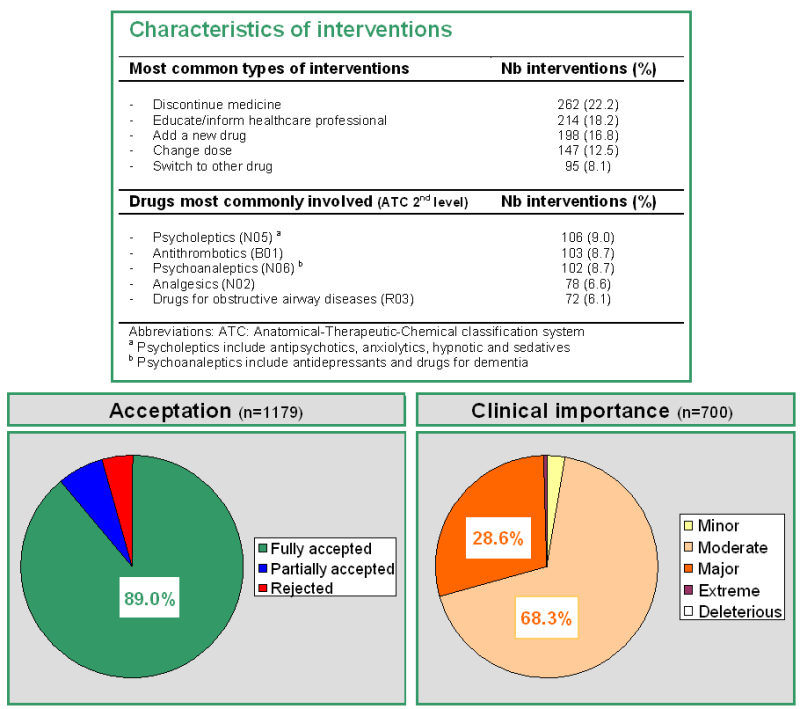 Example 3: Impact of a clinical pharmacist on the optimization of vancomycin administration to patients using continuous infusion
(from Ampe et al. unpublished)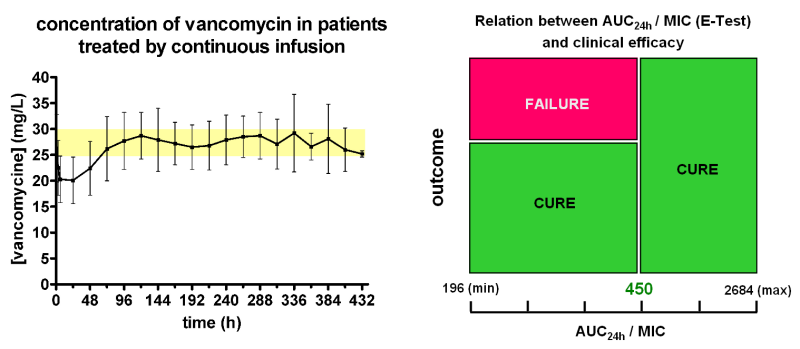 The intervention of the clinical pharmacist was intrumental for (i) applying throughout the hospital a mode of administration (continuous infusion) that minimizes sampling error for therapeutic drug monitoring and is compatible with the PK/PD properties fo the drug (AUC-dependent); (ii) calculating with AUC/MIC ratio will be conductive of success, and thereby establishing the limits of MIC an organism may display while remainijg susceptible to the drug given the serum levels obtained.
---
Clinical pharmacists provide pharmaceutical care from admission to discharge, as illustrated in the figure below.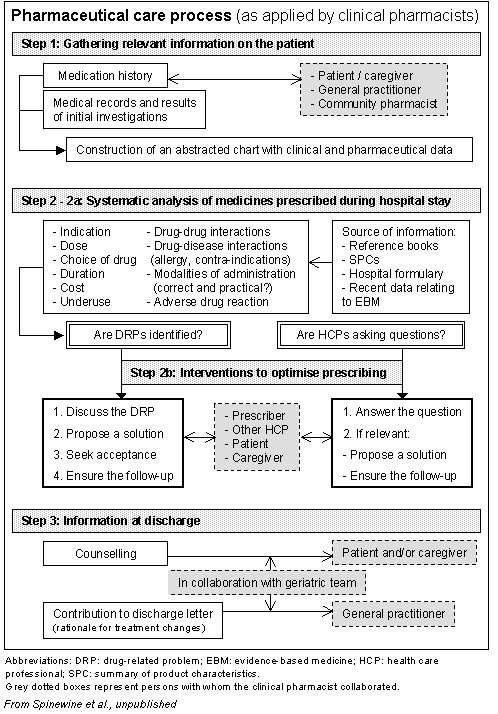 See also
---
Education in Clinical Pharmacy
A. In Belgium

Education is organized at the post-graduate level (after the Masters degree of Pharmacist). Two possibilities are open to candidates:

Certificate in Clinical Pharmacy:

90-hour program directed at hospital pharmacists (candidates must have a degree in Pharmacy, and, if possible, specialization in Hospital Pharmacy [pharmacists without a specialisation in hospital pharmacy can also apply, but should send a letter to the corrdinators of the program to explain their motivation).
The objectives are to acquire knowledge and skills in (i) pharmacotherapy and rational use of medicines, (ii) prescription monitoring and development of pharmaceutical care plan, (iii) problem-solving, decision making and active participation in the medical team.


Master in Hospital Pharmacy (including teaching and training in clinical pharmacy). This new 3-years programme will include ull clinical rotations, teaching in specific topics elated to Clinical Pharmacy, participation to workshops, and realization of personal assignements.

Other educational activities include weekly workshops and/or seminars in clinical pharmacy.

Exchanges between Belgian (UCL) and Canadian (Université de Montréal) professors and researchers are made each year, in order to encourage cooperation and reinforce educational as well as research activities developed by our Center
B. Abroad
The Centre provides guidance and expertise to the University of Pharmacy in Hanoi, Vietnam, for the launching of Clinical Pharmacy in this country
(through a cooperative programme supported by Wallonie-Bruxelles International)
See details at http://www.facm.ucl.ac.be/advanced-courses.htm
---
set up of guidelines and therapeutic recommendations
drug-related educational activities (see examples in the poster and web-education sections sections [under construction])
drug evaluation and analysis (for registration and reimbursement procedures)
systematic reviews on quality of drug use and approaches for optimisation
---
Direction and Senior Members


Junior Members

at the Cliniques universitaires St-Luc (Brussels): C Briquet, O Dalleur, V Duveiller, S Quennery, F Vaillant, A Wertz

at the Cliniques universitaires UCL de Mont-Godinne (Yvoir): C Artoisenet, L Carnevali, V Goncette, C Michel, A Mouzon, G Remy


Advisory Board and Associate Members
(by alphabetic order)
Prof. Y. Glupczynski (Microbiology), Dr J.D. Hecq (Hospital Pharmacy), Prof. Y. Horsmans (Gastroenterology), Prof. M. Lambert (General Internal Medicine), Prof. Ch. Lefebvre (General Internal Medicine), Prof. L. Mallet (Clinical Pharmacy, Université de Montréal, Québec), Prof. C. Swine (Geriatry), Prof. F. Van Bambeke (Pharmacology)
---
Public or non non-profit orgnizations:

Industry and profit-making organizations

unrestricted funding (Mécénat):

Pharmacia & Upjohn, Amgen, Eli Lilly

contracted research

for educational activities : Bayer-Belgium
for drug evaluation and analysis: Bristol-Myers/Squibb
---
Last significant update: 15 October 2011